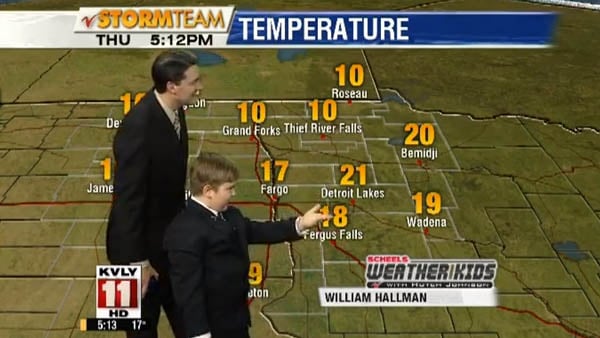 FARGO, ND (CBS ATLANTA NEWS) -
Remember the name: William Hallman.
You may see the Fargo 9-year-old delivering a special weather forecast in the near future.
Just a week ago, chief meteorologist Hutch Johnson invited William, a Robert Asp Elementary student, on the show to assist with his 5 p.m. show. Watch it on YouTube.
William kicked off the segment by saying hello to his teacher and classmates.
He quickly got down to business, tracking snow and thunderstorms across the country.
William was doing such a great job that Johnson asked if he has done this before.
"Um, a little bit," William said.
Since his debut, William was invited on the Today show.
Let us know what you think of William on Facebook or on Twitter.
Copyright 2013 WGCL-TV (Meredith Corporation). All rights reserved.