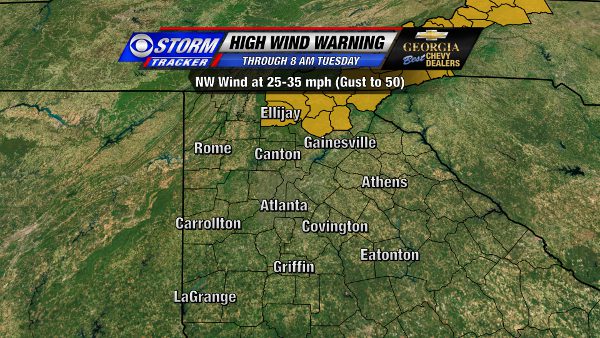 ATLANTA (CBS ATLANTA) -
Hurricane Sandy is a storm with very low pressure which has resulted in strong winds with the system that stretches over 400 miles.
Winds from the system are reaching all the way down to north Georgia with reports of trees down in White County earlier Monday.
A High Wind Warning is in effect for the north Georgia mountains (for the first time since 2010) through Tuesday morning for wind gusts of 50 mph!
A Wind Advisory is in effect for the rest of north Georgia, including metro Atlanta, through Tuesday morning for 20-30 mph winds.
Hurricane Sandy will continue to produce flooding rains, high storm surge, damaging winds and blizzard conditions in the northeast long after landfall. Travel to the northeast should be avoided through the middle of the week.
Hurricane Sandy battered Jamaica with 80 mph winds when it hit Wednesday afternoon.
The storm downed trees and damaged homes all across the island and about 70 percent of the country was without electricity, according to TV Jamaica.
Sandy developed last Monday, becoming the 18th named storm of the 2012 Atlantic hurricane season.
Copyright 2012 WGCL-TV (Meredith Corporation). All rights reserved.