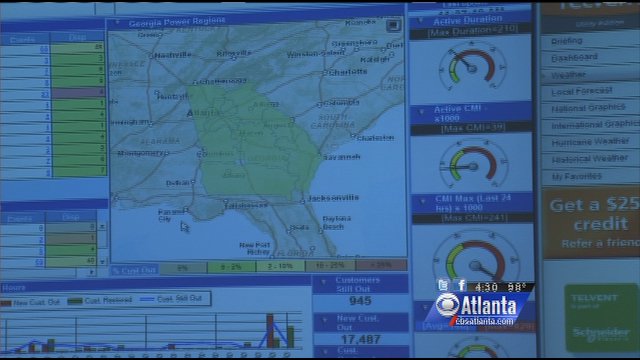 ATLANTA (CBS ATLANTA) -
Storms have been rocking Metro Atlanta on a pretty regular basis lately and they often knock out power to homes and businesses.
So what does it take to get the power turned back on after a storm?
Georgia Power invited CBS Atlanta News to check out their Storm Center on Thursday, where meteorologist Cris Martinez learned it all begins with planning and high tech monitoring devices.
The power company's Storm Center is a communications hub that houses devices that monitor power all over the state and also monitor weather conditions.
During times of severe weather, Georgia Power staffs this center to prepare for power outages. This center has the ability to track power outages right down to your home.
When it comes to sending crews out in time of power outages, Georgia Power Distribution Manager Aaron Strickland told CBS Atlanta News that it all begins in the Storm Center.
"This is the heartbeat of restoring power because we have in one room all the knowledge (based) from all different resources we need to restore power," Strickland said.
Once Georgia Power employees understand the severity of the power outages in any given area, they can put a plan into order to get everyone turned back on as quickly as possible.
Copyright 2012 WGCL-TV (Meredith Corporation). All rights reserved.